Language Study in Tinderbox
Saturday, 4 Mar 2006

:-:
I had my first Latin lesson last week.
The second one was more daunting. Why?
** * **
I haven't undertaken the systematic absorption of a body of knowledge for quite a while. And my last effort was only partly successful. I feel much more at home with an undefined, research-based task in a field I don't know than I do with the acquisition of a body of knowledge. But there's no helping it. The language has to go deeper into the psyche than a vague sense of paradigms and knowledge about knowledge.
How to do this?
** * **
I looked at the notecards and picked up my pen.
How many vocabulary items for the day? 20? With 20 more translations?
I looked at the notecards once more. They stared back, and the lines on their faces belied their worry.
"Sorry guys," I said, and opened up my iBook. Soon, I was looking at the Tinderbox Presentation Assistant (note to self. The Assistant system is beautiful. I need to build a tool or two in it. Just create an XML file, and Tinderbox will auto-customize a Tinderbox file and support files for new instances of your Tinderbox system.).
I started entering my Latin notes as slides in the system. Then, I started to type in the vocabulary items for memorization. I wanted Tinderbox to show me groups of words and meanings on a single slide, but I also wanted the chance to quiz myself. How to do this?
It was simple. I created a new prototype for vocab, with a custom export template. This template simply exported the title: text of the note. Then, I made each vocab item an individual child underneat the slide where I wanted the word to appear. I then set the parent -- the slide-- to include the contents of its children when exporting.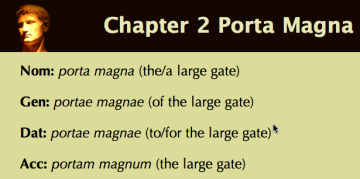 Later, I set up another prototype for phrase translations. In both cases, by putting the Latin in the title, I was able to quiz myself by looking at the title, deciding the meaning of the word or phrase, and clicking on the note to find out the real answer.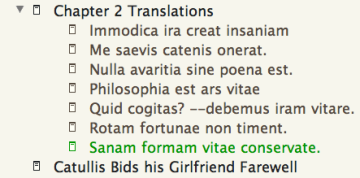 Tinderbox is now a system for my language study which can be developed at the speed of type! By storing all my vocabulary, grammar notes, and translations in the same space, I can also search quickly if I don't remember the meaning of a word or concept. No page-turning or card-fumbling.
The technological limitations of language study tools often exact a high mental penalty, but Tinderbox helps me study nearly at the speed of thought. Thanks, Mark.
** * **
Those of you interested in my Latin notes (based on Wheelock's Latin -- check out Paul Barrette's resource I highly approve of his use of Enlightenment) or tweakings of the standard Presentation template can download my Tinderbox File for Wheelock's Latin. But I prefer that you use the structure but not the data, so I'm not going to provide a full set of notes. I have found that creating the Tinderbox space is an important part of etching the knowledge into my mind, and I wouldn't want to deprive you of that opportunity by making things too easy :-).