Chapter Summaries in Tinderbox
Wednesday, 1 Mar 2006

:-:
Clare Hooper sent me an intriguing email:
I'm having great fun setting up the new novel in Tinderbox - I have prototypes representing characters, chapters, situations/attitudes...
What I'd like is to have 'chapter summaries' - one paragraph per chapter. Can you help?
I suggested that she put a note called "Summary" underneath each chapter. She can then put a single paragraph summary in these child notes. But there's a catch. Clare wants to be able to read the summaries in series.
This was giong to require an agent. I went to work. By naming all the summaries as "Summary," I was able to collect all the summaries with an agent. But I needed to be able to sort them and also show what chapter individual summaries belonged to.
To do this, I created an attribute called "parent" and set a Rule for the summary notes. The rule looked like this:
parent=$Name(parent)
This set a summary'sparent attribute to the title of the chapter. I then set the agent to sort by this field. Using the Explorer View, Clare could now browse her work by chapter or by summary.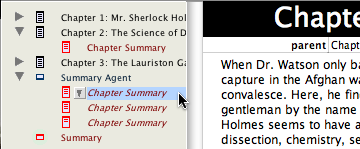 I have made this sample file available for download. ChapterSummaries.tbx
** * **
Tinderbox always provides numerous ways to accomplish the same task. This particular file has the limitation that all of the Chapter Summaries must be named "Chapter Summary." There is a simpler way to accomplish the same effect without requiring a particular name or the usage of a Tinderbox Rule. Can you figure it out?