The Metaphysical Semester
Saturday, 21 May 2005

:-: [soundtrack]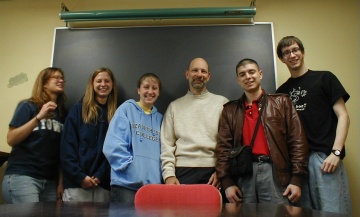 This photo is of one of my favorite memories of Elizabethtown College. (the camera lost the later, less blurry photo, but this will do). It is a photograph of the last class I took in my major, English Literature. I had studied Medieval literature, 19th century literature, and much 20th century literature, but this course on Metaphysical Poetry was a revelation. The topic was fascinating and the poetry was amazing. Since there were only 5 students in the class, we were able to participate, discuss, argue, and share food. One time, we even brought our own materials, hijacked the class from Dr. Martin, and taught part of the class ourselves.
The other students were among the best studying English; I was happy for the opportunity to study with them. I was not disappointed.
Amy Rawcliffe was in a class with me during my very first semester; Medieval poetry. Her unorthodox comments always bring something new to the table. Often, she mentions something that nobody would naturally notice, something fresh and insightful. She's not afraid to speak her mind. Kudos Amy! I wish you well after graduation.
Although I didn't meet Rebecca Shaffer until this class, I am glad I did. Also not afraid to speak her mind when the time merited. One time, she Amy, and Jamie decided that Waller's "Apologie for Having Loved Before" was not really an apology, but just the flattery of an unfaithful lover. Dr. Martin defended the poem with all the effort his pluralistic, unconfrontational style could allow. But when I weighed in on the girls' side, the balance tipped, and he had to concede defeat.
Jamie Hudzik is a very special. She is one of the first people I met as a student. Over the years, we have been in many classes together, since she is also a student of English Literature in the Honors program. Jamie also majors in Psychology. Jamie is one of the pillars of the Honors program at Elizabethtown. We were both in the group that went to the NCHC national conference in the fall of 2004, during which I got to know her more closely outside the classroom. Jamie is one of the few students I most highly look up to, and we have been involved for years in the Honors Council and other activities. Her involvement in the Metaphysical Poetry class made the course fun and thought-provoking. She would bring in many useful references to other works from throughout the ages of Western tradition. Her analyses are impeccable. More than that, she's a good friend.
I will miss you Jamie. Best wishes for your future life. Feel free to chuckle when you notice the metaphysical elements in my Baccalaureate speech :-).
Dr. Martin is the man. If I could become half the teacher he is, I would be infinitely pleased. Soft-spoken, well-prepared, Dr. Martin is the king of discussion classes. He is awesome at encouraging positive discussion, planning syllabi, and his paper assignments are the best. It was Dr. Martin who first set me on an academic path by suggesting I submit a Medieval Literature paper to a conference. I would need a whole month of blog posts to describe the grattitude and respect I have for Dr. Martin. Willing to share a word of encouragement or a peanut butter sandwich, Dr. Martin is caring, patient, and always positive. His classes have an unvarying reputation among students: the hardest, most interesting class you will ever take, the class where you will learn the most possible about the topic while growing to understand life more as well. Although my friendship with Dr. Martin is not the same kind as friendship with a student, he has been one of my greatest and best friends at Elizabethtown College. He is an example to us all.
I am glad I was part of the class. Without me, I wouldn't have enjoyed it as much.
Brian Hess was the first person I met as a student at Elizabethtown College. He was a good friend of my neighbors, and I was to look him up. At Convocation in 2002, I saw a guy sitting all by himself. Since I try to look out for such people, I sat down next to him. We then found out that we were supposed to be looking for each other. Brian is a really neat person; I have been very glad to get to know him well. Always able and willing to speak about Christ, Brian is a strong intellectual, an idealist, and a great guy to hang out with. This past semester, Brian and I drove together on research trips to area libraries. These times were absolutely precious.
Brian's contribution to a class is outstandingly solid. He also knows how to laugh and have fun. I'll miss being in class with him. He's an awesome student and a warm friend.