Milt and the Firing Furnace
Monday, 2 May 2005

:-:
See Milt.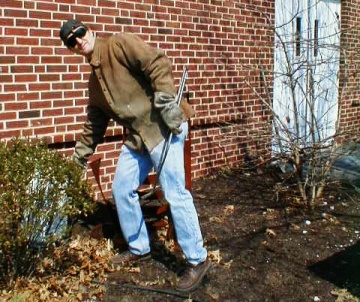 The technique demonstrated is called Raku.
** * **
See The Kiln.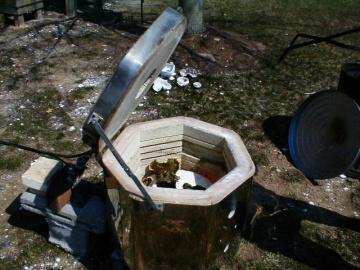 With Raku firing, ceramics are covered in special glaze then superheated until glowing hot.
** * **
See Milt pull ceramics from The Kiln.
** * **
Instant Replay.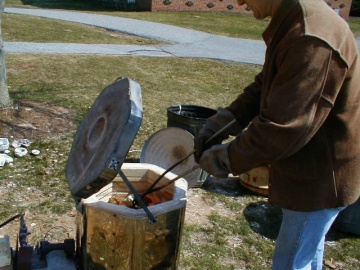 The glowing ceramics are then pulled from the kiln and dropped into barrels of un-ignited sawshavings. Upon contact with the glowing-hot ceramics, the shavings burst into flame.
See Oil Barrel. (see budget)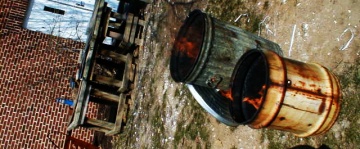 ** * **
See Milt put orange-hot ceramics into oil barrel of sawshavings.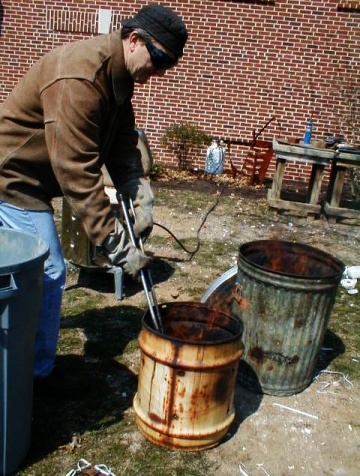 ** * **
Smoke, barrel. Smoke.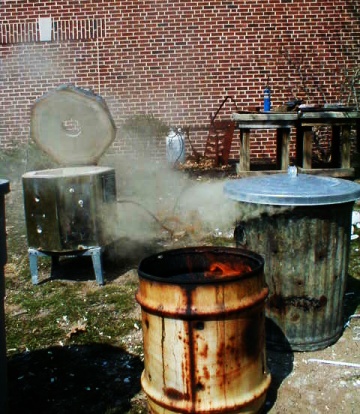 A lid causes reduction of oxygen. In seeking oxygen to combust, the fire then pulls oxygen from the clay and glazes, resulting in a unique effect in Raku.
** * **
Instant replay.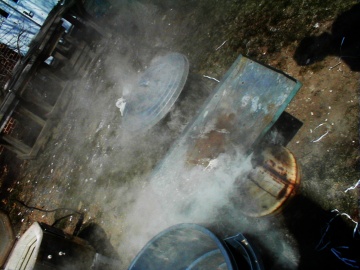 I have too much fun hanging on the coattails of the art department. More information on Raku is available on this Interesting Thing of the Day page, the Raku Museum website, and of course, Wikipedia's entry on Raku. A page on Wada Tozan's Raku art is also interesting.