An Afternoon With Dr. Adams
Monday, 16 Aug 2004

:-:
On a whim, I called Dr. Kimberley Adams, my literature theory professor. Good news! She was nearby. It is comforting and fun to see people I know when I am visiting a strange place.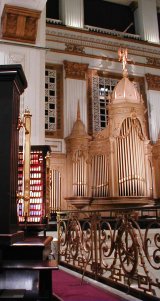 I took the subway a few hours early, registered for the Library Company of Philadelphia, and ate a marvelous chicken sandwich at Maggianos. Then, I walked back toward center city, by the Lord & Taylor. I stepped inside to take another peek at the marvelous Wannamaker Organ, the largest organ in the world and sovereign of all the kings of instruments. I have lately been playing with organs, and I have learned a new respect for the instrument.
Ahhh, it is beautiful. I wish I still played the piano. I would love to learn the organ, with its amazingly beautiful complexity of sound, the harmony and lyric blending together to fill the entire atmosphere with an ecosystem of musical life.
Then, I walked through City Hall underneath a massive sculpted sphere.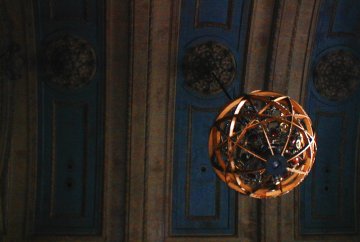 After meandering a bit, I headed over to Cosi's, where I was to meet Dr. Adams. Nice place. I may grab something there tomorrow, while I binge on archives in the area.

We talked for a while about academics, about Philadelphia. Dr. Adams gave me some good pointers on places to eat and things to see. But time ran out. But we were both heading back to center city, so we walked together for a while.
"My husband works in one of those blue towers...the evil empires, we call them"

Before we got there, she pointed out Philadelphia's local temple to the god of money.

It's now the Ritz-Carlton hotel.
Eventually, we split ways. She went to finish her business in town, and I headed off to the 30th street station for more fun in the city.