Candylane, 2004
Tuesday, 11 Jan 2005

:-:
I knew it was going to be a beautiful night.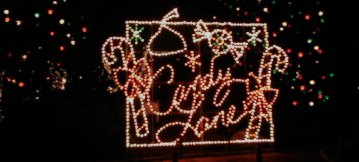 During a semester, I usually afford myself very few luxuries. Time is short, and my schedule full, but this, I had been looking forward to this with great anticipation. After running into an old friend at a coffeeshop, I decided to pay her a visit at work. And why not, when she works as a glass sculptor at Hershey Park? What better time to see a friend than among the color, beauty, and glowing revel of Christmastime holiday?
(cue Mr. Rogers theme -- We're going on a trip, Mr. McFeely!)
Hershey is a beautifully idyllic, upper middle-class town (thanks to Milton Hershey) -- it has an underbelly, true -- but this was a night to forget any sorrow or bitterness, stress or responsibility, and immserse myself in the light, in the smiles, and the company of one of the neatest people I know.
Hersheypark Candylane captures the best in America's commercialization of Christmas. Let's take a look (begin the photo-essay) -->:
<<--
Entering Christmastown
-->>
Candylane, 2004
A random scriptural musing from the archive:
[On a Soul Journey]:-: [Isaiah 40:28-31 ]
Vicki says:
Taken from a soul journey this morning… what an awesome reminder of God's strength, power and majesty!
Do you not know? Have you not heard? The Lord is the everlasting God, the Creator of the ends of the earth. He will not grow tired or weary, and His understanding no one can fathom. He gives strength to the weary and increases the power of the weak. Even youths grow tired and weary, and young men stumble and fall; but those who hope in the Lord will renew their strength. They will soar on wings like eagles; they will run and not grow weary, they will walk and not be faint.